This has been on my mind for a while and it is time to get it off my chest.
In previous years I would coach maybe 1-3 competitors at a time for fitness/bodybuilding competitions. Placings would be anywhere from 1st to 4th. Pretty good, I think – but in people's minds this is what happened: When they won, the competitor got all the credit – when they lost, it was because I was a lousy coach. Just one of those paradoxes I have accepted and come to terms with over the years. On top of that I have competed myself (bodybuilding) and never done well, and "how can someone who can't bring himself into top condition be a good coach for others"? Some outstanding logical reasoning skills being displayed in that sentence, but I digress.
This autumn I had a total of 8 competitors in 5 contests: Norway Open (8 competitors), NM/Nationals (6), Arnold Classic (1), Nordic Championships (3) and finally the World Championships (2) in Budapest this weekend.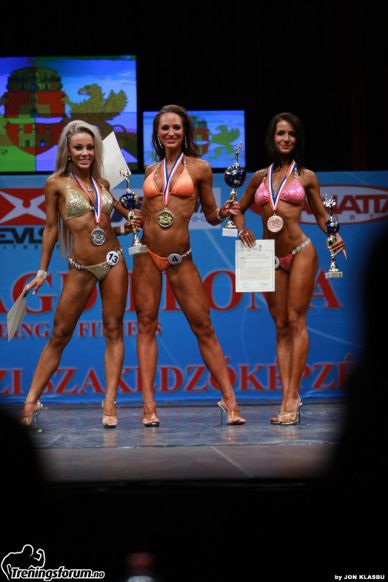 Results overview, counting total finals placings (going from memory, my apologies if I missed anyone):
1st and Overall, 2nd , 3rd and 4th place in Athletic Fitness
1st, 1st and Overall, 1st and World Champion in Bikini (my only bikini competitor)
1st and Overall, three 1st place, two 2nd place, one 4th place in Bodyfitness
Oh…and in other news, a 19 year old girl set 4 National Records (squat, bench, deadlift, total) in powerlifting and ended the season winning the Nationals, qualifying for the World Championships on her first try. I got her into powerlifting in February this year, after having worked with her for about a year before that. It deserved a mention since it is relevant to this post.
So after such a great season, I get to hear through the grapevine (Jungeltelegrafen) what people in the BB/fitness community are saying about me, and it both shocks and disappoints me. "Borge is just lucky, and good at picking the best talents and potential champions. They would have won anyway, with or without his help…" Among various other things, of course, but this one really got to me.
Let's get this out of the way first: I didn't pick ANY of them, ALL of them ASKED ME for help, and I did what I could to maximize their individual potential. A lot of them were debutants and had absolutely no expectations going into this, and neither did I.
Now, I don't just give people a template to follow and let them figure it out on their own, it is an individually tailored training program and diet with weekly and sometimes daily updates and adjustments.
Some people never made it to the stage, and had to quit once they realized how difficult a contest prep can be, especially combining it with a family, social life, work and studies. Some came to me a little late, and as I always tell my competitors: "if you think you need 8-12 weeks to get in shape, double it and you will be in the ballpark". It takes time to get stage ready, especially for the first time competitor.
Some people just needed to fix their emotional issues and how comfortable they are inside their own body, instead of thinking a physique contest will "fix" them. I am brutally honest about this, but also make an effort to provide solutions and better alternatives.
Some can't handle it and I never hear from them again, they often just move on to a coach who will tell them what they want to hear instead of what they NEED to hear. Some really appreciate it and thank me for setting them on the right path and giving them a healthier mindset.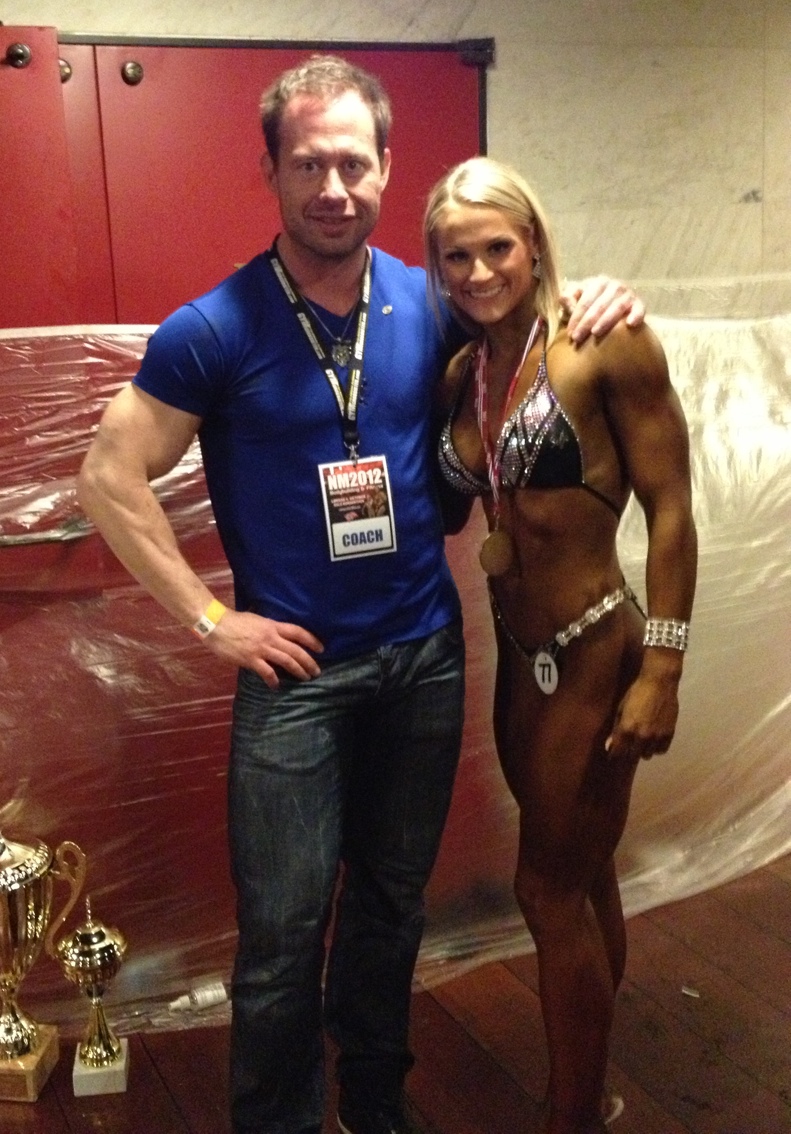 For those of you who haven't worked with me – I'm not just a diet or training coach. Almost half of my time and energy is spent on the mental and emotional aspects. I provide support and motivation during those days when everything sucks. People open up to me and share their deepest thoughts, what makes them happy, what drives them, their fears and their dark side – things even their closest friends or family know nothing about. I guess it is easier to open up to someone you don't know via e-mail, and I truly respect that trust. Then you have the competitors. Anyone who has competed or even dieted for a long time knows that when it gets to a certain point, your mind starts playing tricks on you. You don't see ANY progress even though everyone else does. You start overthinking and overanalyzing every minor detail and will end up making irrational and destructive choices if left to your own devices for long enough. That is when I have to step in and be the voice of reason, keep their head straight and their feet firmly planted on the narrow path to success.
I believe everyone have the tools to find their own way, but you need to eliminate all the "noise" (well meaning friends, the media, facebook/twitter/instagram/blogs etc) and listen to your heart – what do you really want vs. what does everyone expect of you. Hint: what you believe everyone expects of you may not be true, it might just be a creation of your subconsciousness to rationalize why you are doing things to yourself which is making you unhappy.
I completely understand, though – sometimes too well, and I end up owning their problems instead of just providing support and guidance. Being an extreme empath is what makes me a great coach, but I am also a nervous wreck watching my guys and girls on stage in front of the judging panel and audience. I am overcome with joy and tears when they receive their trophy. I am overcome with feelings of inadequacy and failure when they don't receive their trophy, and the disappointment in their faces haunt me for many days and nights after. I realize everyone can't win, but I still begin to wonder if I could've done a better job.
When a friend asked me to remember the last time I felt extreme happiness, I said it was when "X" won (name omitted). Ponder that one for a moment. My happiest moment was when someone else got awarded a trophy for their accomplishments.
So, I hope you can understand and appreciate that being a coach takes a lot out of me, both physically, emotionally and spiritually. I work with around 30-40 people at a time, and 90% of my clients have no interest in fitness or bodybuilding, they are just regular people or athletes from various sports – yet the energy I put into the remaining 10% is what is tearing me up inside. Not the competitors (well, most of them haha), but the whole drama and negativity surrounding the whole thing. It just annoys and saddens me how many in this sport feel the need to criticize and badmouth everyone else, just to draw attention away from their own insecurities and flaws and make themselves feel better.
Oh, I have been there and I know how easy it is to get "sucked in", so don't think for a second I am trying to glorify myself or point any fingers. My whole point is just to put into perspective why I am so fed up with it all right now. I realize that the more success you have, the more criticism you will have to tolerate. I have had to grow thicker skin over the years, trust me, but when I see all the positive energy and feedback I get from everyone and everything else I work with (I share a small % of it on my facebook wall now and then), I begin to wonder if it is really worth it anymore.
So – making an already long story short: I am not sure I want to be coaching athletic-/bikini-/bodyfitness or bodybuilding next year.
I am already fully booked as a coach, in addition to working as a writer for international magazines, doing workshops and seminars for 3 companies throughout the country, not to mention being a teacher and consultant at AFPT (Academy For Personal Training). I have a book project going, but less and less time to finish it or to publish articles and blog posts to share my knowledge.
Sometimes days and weeks have passed where I don't even get to see my friends or family, I have made sacrifices I probably won't be so proud of when I'm old(er) and looking back on my life. I love my job, but certain elements which comes with the territory are affecting my motivation and well-being in negative ways, and if I want to do this a few more years and be a good coach, friend and human being I have to make decisions that will disappoint a lot of people.
Right now, I don't know yet. I will spend the Christmas holidays relaxing with my family and friends, and hopefully that will put things into better perspective for me, allowing me to make the best decision. Thanks for listening, if you made it all the way through.
Best wishes for a happy Christmas and a prosperous New Year. May all of you choose the right path – the one leading to a happy and fulfilling life.