Along with how to build the biceps, achieving a barrel-like chest able to hoist heavy weights is one of the most popular topics to discuss for bodybuilders all over the world, and incidentally also the muscle group with the most articles on how to train it.
Well, I might not have a great chest, and I struggled with my chest development throughout my whole lifting career until I finally figured out what worked. So rather than take training tips from someone who benched 100kg the first time they walked into a weight room, perhaps you have more to learn from someone who always sucked at benching but who still managed to triple his strength and fill out the pectorals into a respectable size.
So if you feel like you have stagnated or just want to spur some new growth in that area, bear with me and keep reading.
Let's first talk about anatomy and function, without getting too technical and advanced.
The pectoralis major consists of two heads – the sternal head (lower chest) and the clavicular head (the upper chest). The chest's primary functions are transverse shoulder flexion and adduction, as in bringing your arm from out to the side and forward, towards and across the midline of the body – like in a fly movement.
Generally, the angle of the bench determines what part of the chest you target, inclines target the clavicular, upper part and declines target the sternal, lower part. Or to be more correct – inclines REDUCES the contribution of the lower part, which is why you are generally weaker in this exercise.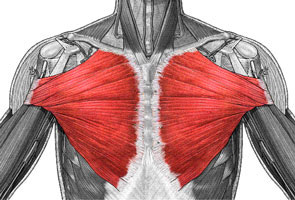 A problem many lifters have when training their chest is that the anterior shoulder takes over. For pressing exercises, you will target the chest better with the elbows flaring out to the side. Vince Gironda once said that the guillotine press (elbows flared, bar travels down in a straight line towards the neck) is the greatest pec exercise ever invented.
The problem is that unless you have spectacular mobility, you will wreck your shoulders and rotator cuff muscles since the upper arm angle creates shoulder impingement and reduces subacromial space width. You can partially counteract this by focusing on scapular retraction, i.e. contract everything from your traps down to your lats as hard as possible and really pinch those shoulder blades down into the bench – but if needed you should also limit range of motion and stop a few inches short of touching your throat…or strangling yourself, if that is your flavour.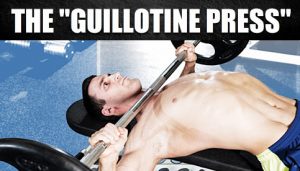 I would also suggest you get a manual therapist to loosen the muscle fascia and all surrounding structures (subscap, lats, serratus, and pec minor in particular). I highly recommend Active Release Techniques – ART® if you can find a qualified practitioner in your area.
If not, get any kind of deep tissue work from a therapist who has worked with athletes and lifters. It will do wonders both for your lifting technique, injury prevention, and potentially allow more room for growth expansion in the pectoral muscle itself (the latter point is debatable, though – as the fascia is extremely tough).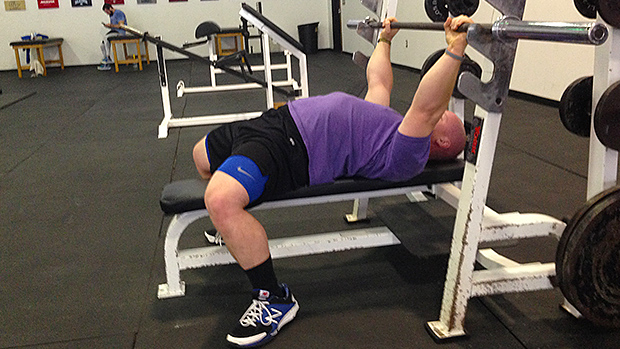 The bench press is famous for wrecking both shoulders and ripping pecs from their insertions, so mobility and perfect setup and technique is priority number one before you start loading up the bar. If you have persistent shoulder pain, first of all get it treated, as previously mentioned, but also default to a more powerlifting oriented bench technique (elbow tuck, J-curve bar path).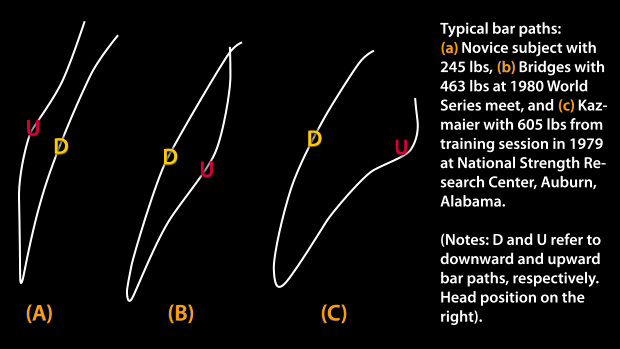 Even if it reduces pec stimulation, staying pain-free takes higher priority and the heavier loads you can lift with this technique will compensate a little.
I have another tweak to the bench I will share with you later in this article, which will improve stimulation while simultaneously reducing injury risk. I will also show you two other exercises that will really pack some beef on your chest!
But first – to train the chest optimally we need to find the best rep range, volume and frequency. This will depend on various factors, but I will give you some general guidelines and then a specific test you can use to optimize your program further.
Program variables to boost your pec size
Beginners can get great results from training at lighter loads of 60-70% of 1RM, or approximately a load you can lift from 12-20 reps with. The beginner also doesn't need more than 3 sets total per workout, since his stimulus threshold is so low (0 sets when he first starts training).
Training frequency can be 2x/week, but even better is 3-4x/week, since a beginner needs more practice to perfect his technique, but also because the overall stress per workout is less since he is not strong enough to use heavy loads yet. For the higher frequencies, I would advise using 1-2 of the additional workouts to focus on technique, e.g. by doing several submax sets of 1-3 reps just for practice.
The more advanced you get, the higher loads you need to lift and the more volume you need to stimulate an adaptation. There is much to be said for the advantage of 3x/week or more, as I have covered in other articles, so I won't dig into that here. I tend to recommend a 3-4x/week frequency for most bodybuilders unless we are talking about low volume, neural/technique practice. Some very successful benchers (in the drug free categories) are doing some variation of the bench press up to 5-6x/week, though.
For compound chest training, you should stay in the 70-85% of 1RM range most of the time, which is a load corresponding to 5-12 reps for most people. There are very few studies showing any advantage in lifting heavier, unless your main focus is absolute strength for powerlifting. Still, many of the most successful powerlifters in the world never max out in training. They save that for the contest – and the average load lifted in training is approx 75-80% of 1RM (depending on whether you count warm-up sets), usually with at least 1-2 reps in reserve on each set.
Muscle fiber type composition is largely genetically determined, and fiber type composition of each muscle varies in any individual person. In the general population, differences in percentage of slow to fast twitch muscle fibers are usually minor, and for pressing muscles the average number is 55-60% fast-twitch dominance.
Fast twitch fibers generally respond better to relatively low volume, more rest between sets, higher loads and lower frequency.
A simple test you can do to determine if you are an "outlier", is the following:
Test your 1 rep max (1RM). It doesn't have to be an extreme grinder, just estimate it based on your performance – i.e. if you managed a single at 95kg and felt like you could easily do one more rep, you can just set it at 97.5kg or 100kg and not have to test another set.
Now, rest for 3-4 minutes. This is important.
I think most bodybuilders are making too much out of the metabolic effects of short-rest training, and treating weight training as a HIIT workout. There are several studies showing short rest intervals (<2 min) impairing training adaptations for hypertrophy and strength.
Hypertrophy is a factor of both proximity to failure and absolute load. Long rest allows you to train close to failure with high loads, so I am not saying you should be doing one rep sets – just that there is an optimal amount of fatigue, and too much of it will inhibit adaption. But I digress.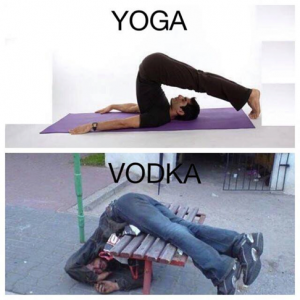 Bill spent his resting periods wisely, practicing some easy Yoga positions.
Then the weekend came, and his enhanced mobility turned out to be very useful.
Following the 3-4 minutes of rest after the 1-3RM test, drop the load to 80% (down to 80kg if your 1RM is 100kg) and do 3 sets of max reps, separated by at least 2 minutes of rest. And by "max reps" I am not talking about absolute failure or cheating reps, it is fine to leave a rep in reserve.
Looking at your performance on these sets, we can make a couple of observations:
Your fiber type composition: if you got 6-8 reps on the first drop set you have a pretty even distribution between fast and slow-twitch fibers. If you could do only 3-5 reps you are very fast-twitch dominant, and if you managed 10 reps or even more, you are probably very slow-twitch dominant. I will note that this test is NOT necessarily an accurate reflection of your muscle fiber type, it could also just be how you are used to training, your nervous system, your neurotransmitter balance, prior endurance adaptations and much more, as I have covered in my Norwegian online course – but the point still stands, I have generally found a high correlation between setting an intensity and setting the rep targets based on that vs. advocating general rep range recommendation.
Your volume and work tolerance: if reps drop significantly from set to set, you have a low volume tolerance and should probably keep your total number of sets in moderation. E.g. if you see 10, 7, 5 reps, I would probably do only 2-3 sets per exercise. On the opposite side of the spectrum you have those who manage 10,10,9 reps displaying a higher rep and volume tolerance, and these lifters can usually also handle more sets in training. Even then, beginners should do fewer sets than intermediate and advanced lifters, so scale the numbers according to that.
I prefer to look at weekly volume and not just volume per workout when designing a training program.
For chest I find that a weekly volume of around 8-12 sets for intermediate lifters split into 2-3 workouts is a guideline that will fit most lifters – which is around 4-6 sets per workout.
As you get more advanced I tend to favour adding workouts, not volume per workout to increase weekly volume, if possible.
You can see this table to evaluate your relative level of advancement…
As you go from e.g. 4 sets over 3 workouts per week for chest (12 sets total), you would preferably go to 4 workouts per week and 4 sets (spread over two exercises) for 2 of those workouts + 3 sets (of one exercise) for the other 2 workouts, for a total of 14 sets – and so on.
There is no reason to overthink this, though. We humans are amazingly adaptive creatures, and gradually and progressively increasing the loads you are lifting is still going to be the most important factor for getting stronger and bigger.
If you're not getting stronger (keeping a training log is mandatory), you need to adjust something. It's really that simple.
Summing up – program variables:
– Lifter A did a 100kg 1RM, then followed it up with 80kg x 5,3,2 reps. He is most likely fast-twitch dominant and has a lower volume tolerance. My suggestion would be to focus his chest training in the 3-8 rep range, with compound lifts in the lower range and isolation exercises in the upper range, and number of sets per workout around 3-5 total and a higher frequency of training (3-5x/week).
– Lifter B did a 100kg 1RM, then followed it up with 80kg x 12,12,11 reps. He is most likely more slow-twitch dominant and can tolerate more sets. My suggestion would be to focus his chest training in the 8-15 rep range, compound in the lower range, isolation in the upper range, number of sets per workout around 5-8 total and a lower frequency of training (2-3x/week per muscle group).
My own personal tweaks: I have been training for 20 years, but I'm not very strong due to a partial supraspinatus tear and some slight instability in the joint.
Oh, and because I Suck.
I am also slightly slow-twitch dominant in my pecs and have a lower volume tolerance (which is probably why my pecs never grew much from my powerlifting benching). I rotate between a compound lift day 1 (usually chest dips or floor press for 2-3 sets of 5), Myo-reps on a fly movement day 2, then loaded pushups or Hammer decline for a dropset of 12-15 on day 3. I repeat the cycle with rest days wherever needed. So very high frequency but low-moderate weekly volume.
A side note is that when training for hypertrophy I prefer a constant tension rep performance with a fast, but controlled eccentric, an explosive concentric, but not locking out at the top. I know it is not legal in powerlifting to avoid locking out, but we are doing this for muscle growth and not to get three white lights at a powerlifting contest. It is by no means "cheating" either, as there is no extra muscle stimulation from the lockout position since there is actually less tension on the muscles, but more on tendons and joints.
This does NOT mean you should bounce your reps or cheat, the injury potential is greater that way, even with lighter loads.
Let us continue…
Exercises and tweaks
Accommodating resistance training might be a term you have heard of before, popularized by Louie Simmons of Westside Barbell. In this context, it refers to using implements such as elastic bands and chains attached to the bar to change the resistance curve of the exercise.
Let me explain that further.
Due to biomechanics and levers, the load will be heavier at the bottom of a bench press and squat, but at the top, you can probably do partial reps with 150-180% of your 1RM. And since so many people in gyms everywhere don't know how to squat, or they just use the squat rack for biceps curls, this is what you see them do: add too much weight to the bar and barely quarter squatting it to impress the ladies.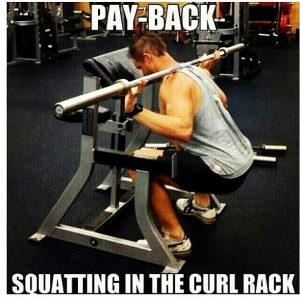 To compensate for this uneven resistance curve, you can fasten elastic bands to the bottom of a power cage or to dumbbells on the floor, and then attach them to both sides of the bar. At the bottom of the movement, the added resistance will be low, but as you lift the bar the bands will stretch and add progressively more resistance.
Whereas you normally would have to decelerate the bar to slow it down towards the top, you can now push it with full force and still have it move at a constant speed. This leads to a powerful contraction in all the involved muscles!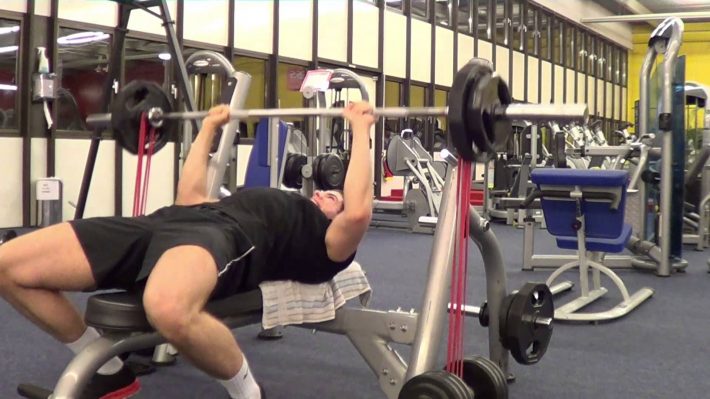 You will also overload the eccentric, as the elasticity is rebounding and adding tension on the bar when you lower it.
Studies have shown that accommodating resistance training improves power, strength and hypertrophy significantly more than traditional training, but it also increases the overload to tendons and muscles, so do not overdo this type of training.
Chains are also a great tool, but they are more of a hassle to use unless your gym is already equipped with them. Bringing 30-40kg of chains to the gym in your backpack isn't very feasible, whereas elastic bands can easily add 30-50kg or more to the top of a bench press and are easy to transport.
If you have shoulder instability or pain in the bottom ROM, you can use a reverse band setup, where you hang the bands from the top of a power cage. This will unload the bar at the bottom, and progressively add resistance to the top as the band unstretches, and the eccentric stress is a lot less compared to a regular band setup.

I also insist that you get a tight setup with your feet planted below your hips, shoulder blades pinched hard together into the bench, grip the bar as tight as possible and ALWAYS with the thumbs around the bar (trust me, this is safer AND will increase strength via neural activation or "irradiation" as other authors have called it). Use a wider grip and flare the elbows out if your shoulders can handle it. I actually allow a slight butt lift to simulate a decline angle, which will hit more pectoral muscle fibers and reduce delt involvement.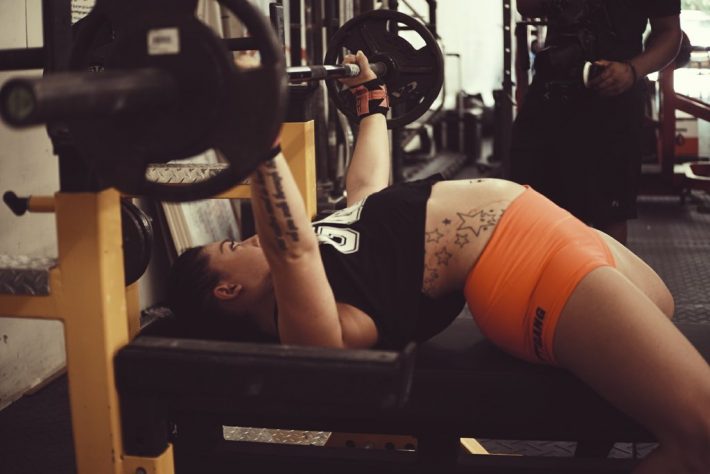 Another option is the floor press, with the added safety feature of the elbows hitting the floor if your biomechanics are suboptimal for benching (short arms, big barrel-like chest vs. long arms and flat chest).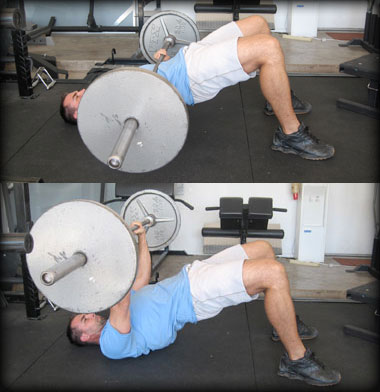 A final option is chest dips, where you make an effort to tilt forward in order to hit more chest and less shoulders. Quick tip: twist the weight plate and put it on top of your knees. Lift your knees up to your chest and you will shift your center of gravity forward, making it easier to hit the appropriate angle:
This video is really old, and the account isn't active anymore. My hair is better now, too.
As for progression, I recommend that you make an effort to increase loads as often as possible. Unless you are very strong, I actually suggest getting 0.5kg plates, which will allow more consistent loading increases.
I know you might think that adding only 1kg per week sounds incredibly easy, but over a year that is actually a 52kg gain – and how many do you know who increased their bench by that much last year? Right, so acccept that there will be good workouts where you can increase the loads faster, but also bad workouts where you might have to reduce the weight or just end the session and go home – come back stronger the next time.
For someone advanced or elite, I recommend a double, or non-linear periodization where you have days with higher reps and days with lower reps. This effectively stretches the progression out over time, so instead of adding 1kg or 2.5kg every workout twice/week, you add 1-2.5kg to each rep range.
Auto-regulation
I only pre-plan my first set of an exercise. This is my "testing set" to see if I got stronger since last time. I have a rep target or range I want to hit on each exercise, based on prior testing. I will push close to failure here, but not beyond it. Most of the time I will leave 1 rep in reserve. Based on the outcome of the first set, the next sets will be determined:
If I was successful in reaching my rep target, and I either got more reps or incremented the load since last time, I just keep doing subsequent sets with the same load, and ending the set when rep speed noticeably slows down. This way you can get in more volume without limiting recovery by excessive fatigue. The number of reps here will also auto-regulate, so if you pushed yourself hard on the first set, the subsequent sets will be lower reps, and overall volume will be lower (e.g. 8,5,3 reps). If you have a high work tolerance, subsequent sets will be higher in reps and volume, and overall stimulus-adaptation will still end up optimal (e.g. 8,7,7 reps). The load will increase next workout if you reached your rep target.
If I reached my rep target and it was way easy, I will add another load increment for the next set. E.g. 100 x 8,8 – 102,5 x 6
If I didn't reach my rep target, and got the same number of reps at the same load as last time – Stagnation (temporary) – I drop the load by 10-20% and just do a couple of easy sets of 3-5 reps. If I incremented the load by 2,5% since last time and dropped more than 2 reps (2 reps is an approx. 4% strength difference) I also view that as (temporary) stagnation. So e.g. if I did 100 x 8,6,5 last time and now did 102,5 x 5 on the first set, I'll drop down to 90kg and do 3,3 reps.
If I didn't reach my rep target and experienced a regression in strength, e.g. I lost 1 or more reps at the same load as last time or 4+ reps at 2,5% higher load, I will end the session there. Whatever I did since my last workout, I didn't recover in time, so reducing the volume acutely is the better solution. If this happens several workouts in a row, we need to go back and redesign the program for that muscle group – or redesign the whole program if you are getting weaker overall.
Next, we move on to an isolation exercise.
I don't recommend dumbbell flyes, as they have an imperfect resistance curve – maximum at the bottom where the shoulder is also the most vulnerable, and zero at the top, where you can just balance the weights effortlessly.
So how do we get full chest stimulation without compromising your shoulders?
Use cables.
I am using a slight incline to hit more clavicular pec fibers since we just hit more of the sternal fibers with the arched-back, butt-lifted bench setup. Also notice that the resistance curve is evenly distributed all the way from the stretch position to the contracted position.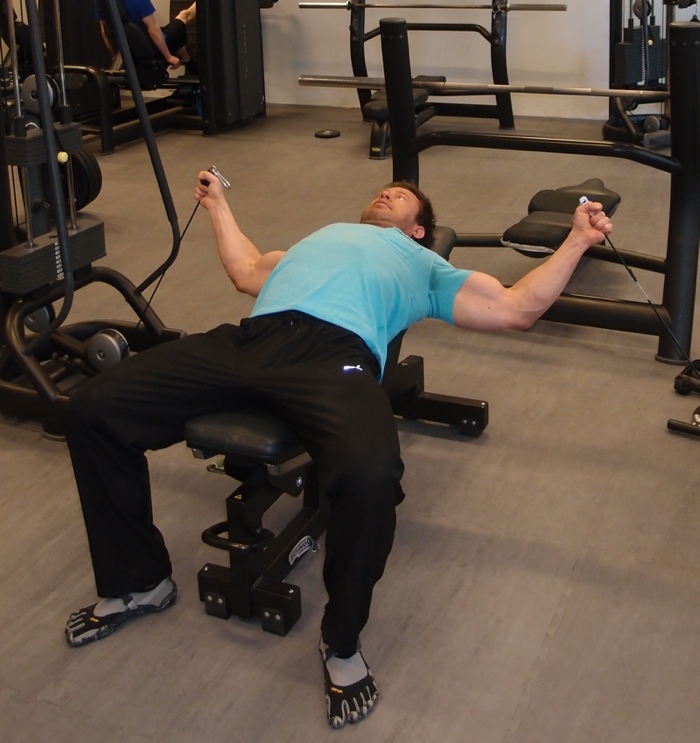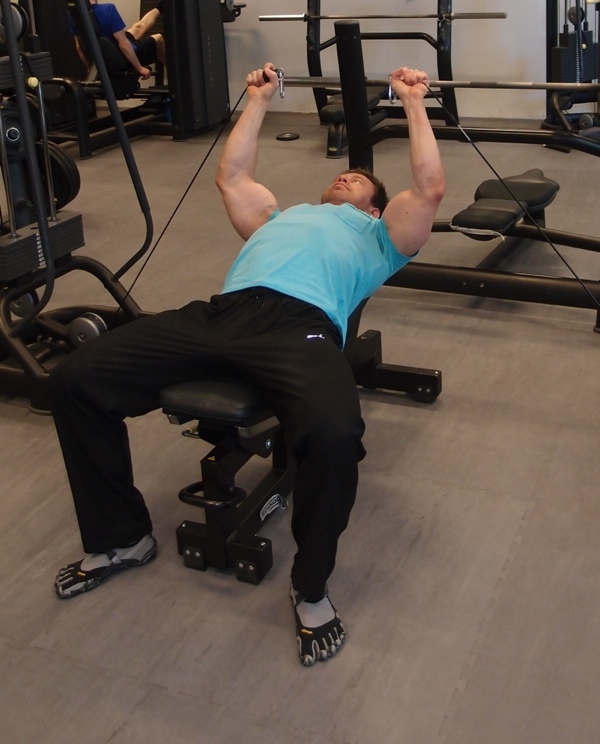 By doing cable flyes in the same way you are doing your bench press, you achieve full scapular retraction and increase subacromial space width, which creates extra stability, better pec recruitment, and minimizes unwanted body momentum like you would see in the way most perform standing cable crossovers.
It is important that you don't allow the elbows to travel too far behind your torso, as this will only overstretch the ligaments and tendons without adding extra pec stimulation. A ROM of elbows 10-20 degrees below the bench is plenty.
The final tweak for maximum stimulation is to do cable flyes with internally rotated shoulders like we discussed for the bench press, i.e. the thumbs should be pointing towards each other.
If your gym doesn't have straight handles, ropes or ankle straps to allow this grip, you can just hold the cable attachments like me in the illustrations. A slight elbow bend is necessary to reduce bicep strain. You don't want your curling strength to determine how much pec stimulation you can achieve in this exercise.
Reps move into the middle-upper range, since this is an isolation exercise, and my own 1RM testing/estimation and using 60-70% intensity (as % of 1RM) I will get 18+ reps, but your numbers will probably be lower since pecs are commonly fast-twitch. At higher rep ranges (15+) I tend to favor Myo-reps, so that's what I'm doing on this exercise.
I found that adding more work to cable flyes increased my pec activation significantly in the bench press, too. Before this, I would get a major tricep pump, but not really feel my pecs working, even back in my powerlifting days when I was able to do reps with 180kg in the bench press.
These days, I get a tremendous pump with only 100kg bar weight on my banded bench press. If this is a problem you also have experienced, I recommend you cut the volume on bench press in half and double the sets of cable flyes until you notice your pec activation increase, then you can increase your bench press volume and drop cable flyes back down again.
Last, but not least: one of my all-time favourite exercises, and you will all be familiar with it: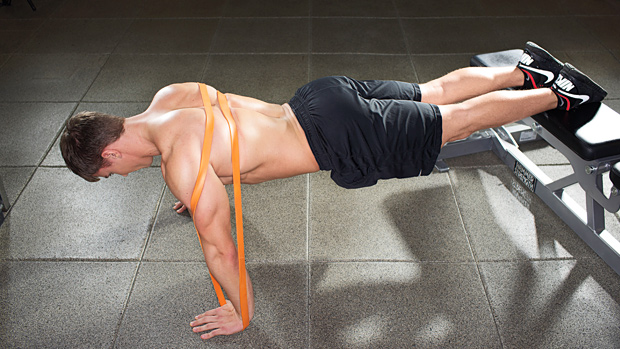 Yes, it is just a regular push-up! But why is it such a great exercise? Well, closed kinetic chain exercises, where you move the body in space (chins and squats are other examples) will always be more biomechanically efficient than open-chain exercises where the body is still and the weight is moving.
This is what we are designed to do by nature. We were not meant to lie on our backs and press a heavy load above our chests, we were meant to push our bodies away from something, or push something in front of us while walking forward, or to throw implements, spears, beer bottles and women. I was joking about that last one, of course. Or not.
With push-ups you also get high core activation, which will improve total body stability and strength. Lying on a bench, your scapulae are locked into place, which is why it puts so much strain on the shoulder and rotator cuff muscles. In a push-up, your whole shoulder complex can move freely, so you get a full range of motion with less strain on joints and tendons.
The pec contraction and stimulation you can achieve with push-ups is almost unequalled, except for one thing: the exercise itself is difficult to load properly. Most people can do 20 or more pushups with their own bodyweight with ease, and we need to get into a loading range where we approach failure at 8-12 reps or so.
The solution is to add elastic bands stretched behind your back.
Twist it to shorten it and increase resistance, and to avoid having it slide around during the set. You achieve the same benefits as on the bench press, but given that you don't have to fear dropping a bar on your chest, you can move even more explosively on push-ups.
Second, get a sturdy backpack and fill it with weight plates. Get one with metal instead of plastic fasteners on the shoulder straps, and have someone help you load it up – or place it on a bench so you can kneel in front of it to get both shoulder straps on before lifting it. A more expensive option is a weight vest, but those are also impractical to bring to the gym for every chest workout.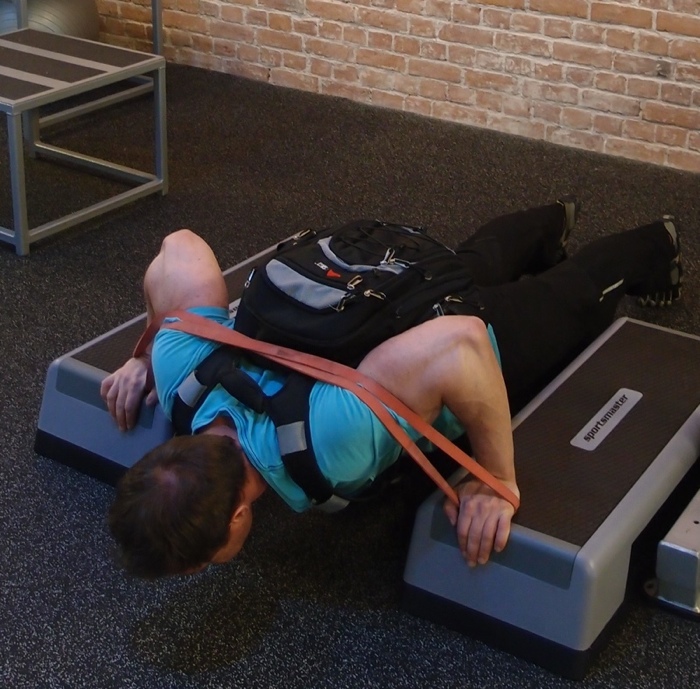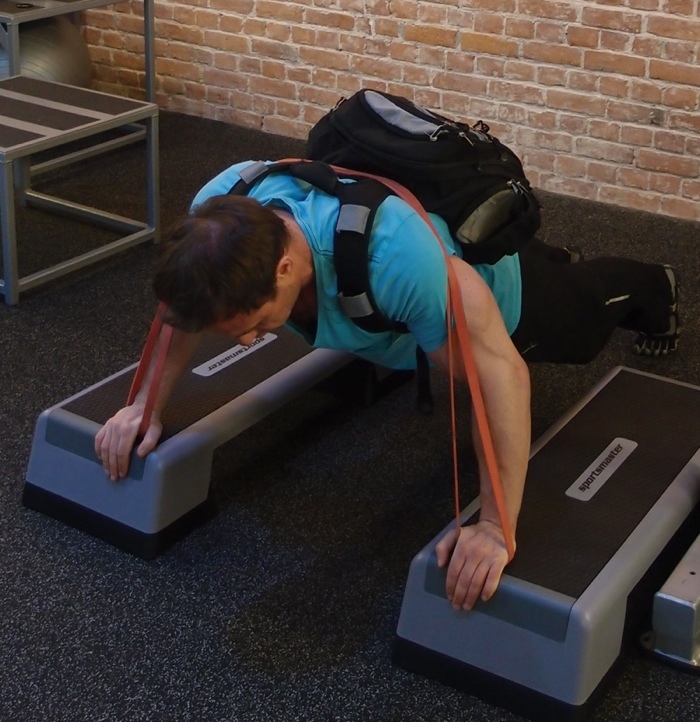 Put your hands on dumbbells on the floor or low step boxes so you can lower your body between them, and safely stretch into a higher range of motion. Be careful the first couple of times if you have limited mobility (it will improve with this exercise).
It is important that you tighten your core, and even squeeze your glutes to shift and rotate the pelvis forward and lock it there. You don't want your lumbar spine sagging down like a banana hammock. Core stability is important to get full force production throughout your upper body. The reps here will be in the higher range, but since you will already be fatigued from the banded bench and cable fly, you shouldn't need a lot of extra load to approach a failure point around 8-12 reps.
A note on the 1RM test/estimation for pushups: When estimating your 1RM, use 70% of your bodyweight + extra load in the calculation, as that is approximately the total load you are lifting (studies show this number to be anywhere from 70-75%).
So let's say I managed 3 reps at 100kg bodyweight + 40kg added load (I don't include the elastic band in the calculation). This is a total weight of 110kg (70% of 100kg + 40kg), and from the calculator I get a 116kg 1RM.
I use a load of 70-75% of 1RM for pushups, 81-87kg in this case, and subtracting 70kg from this (70% of my bodyweight) I get 11-17kg of added load.
So I put 15kg in my backpack and just rep out. I get 16 reps and this is now my personal rep target. I get 16, 10, 7 reps over 3 sets, even with 2+ minutes of rest, so with my low volume/rep tolerance I might do only 2 sets or go with Myo-reps for optimal stimulation.
The program
So let's look at a great starting point for most lifters who want to grow their chest:
Day 1 (e.g. Monday):
A. Bench Press (w bands or reverse bands) or "decline" Floor Press
2-3 sets @80-85% of 1RM
B. Cable Pec Flyes
1-2 sets @50-60% of 1RM OR 1 Myo-rep set
Day 2 (e.g. Wednesday):
Loaded Pushups w bands
3-4 sets @70-75% of 1RM OR 1-2 Myo-rep sets
Day 3: Repeat Day 1 (e.g. Friday)
My own personal program, being more advanced and having a low volume tolerance:
Day 1 (e.g. Monday):
Cable Pec Flyes
2 sets @50-60% of 1RM OR 1 Myo-rep set
Day 2 (e.g. Tuesday):
Bench Press (w bands or reverse bands) or "decline" Floor Press
2-3 sets @80-85% of 1RM
Day 3 (e.g. Wednesday):
Loaded Pushups w bands
2 sets @70-75% of 1RM OR 1 Myo-rep sets
Day 4: rest or repeat cycle (Thursday or Friday)
Note the sequence light-heavy-medium, as found in research by Mike Zourdos to be better than the more common light-medium-heavy.
Conclusion
Having a bulging chest with developed and full pectoral muscles are easily recognized by our primitive nature as the primary sign of strength and masculinity. Some just need to do some heavy bench pressing and achieve this look with ease, while others such as myself have been struggling for years, never getting much out of the standard bench press except nagging pains and little to no chest development to show for it.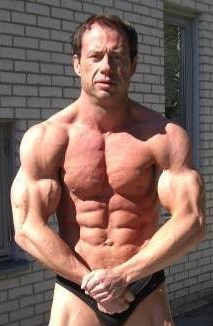 In this article I have given you some new ideas and tweaks that have finally cracked the code in my own chest training, and everyone with similar issues as myself I have shared it with. I encourage you to implement the exercises and methods I have provided here, and with some concerted effort and hard work, you will also be able to take your shirt off in public.
Bonus points for being able to show off that entertaining trick where you contract and make each pec jump. Small children will laugh and point, old women will clap, and the ladies will be jumping into your lap. At least in your dreams. But find comfort in the fact that the bros will like it. And for some people – that might be enough.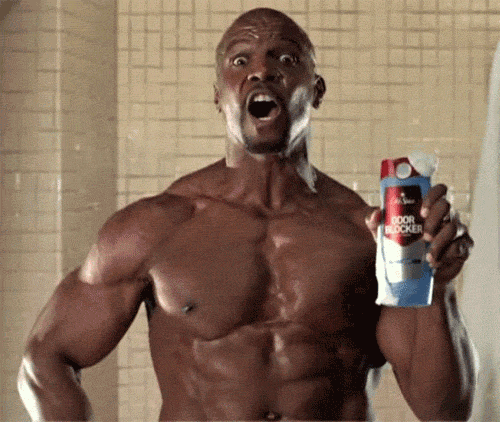 If you like – or even LOVE – this article and would like me to publish more, share it on Facebook